Innkeeping is a very full-time job – twelve hours a day seven days per week.  As a result, despite having lived the last five years in the outdoor wonderland of Western North Carolina,  Andrea and I have had little chance to really explore and enjoy our surroundings much beyond the hikes and sights nearest to the Andon-Reid Inn.  Last year of course, COVID changed everything.  One of the few silver linings was that Andrea and I had a little more time on our hands and were finally able to venture slightly further afield to see for ourselves why so many people flock to this beautiful area.  We are happy to share some of the highlights of our travels with you in case you want to check them out yourself next time you stay at the Inn.
Our first set of adventures took us north of the Andon-Reid Inn for some great hikes along the Blue Ridge Parkway.
BLACK BALSAM KNOB LOOP HIKE
Our first stop was the Black Balsam Knob loop hike at Milepost 420.  This is described as a "double-summit, ultra-scenic five mile loop".  The counterclockwise circuit begins with a section of the Art Loeb Trail.  This is the more strenuous part of the hike and it's good to do it while you are still fresh.  It takes you through some rocky up and down trails with quite an overall elevation change.  Some willpower and effort are needed to summit Black Balsam Knob and Tennent Mountain, but then the extensive views at 6,000 feet are well worth it.

Along the trail we also encountered some interesting wildflowers, fungi and pretty butterflies.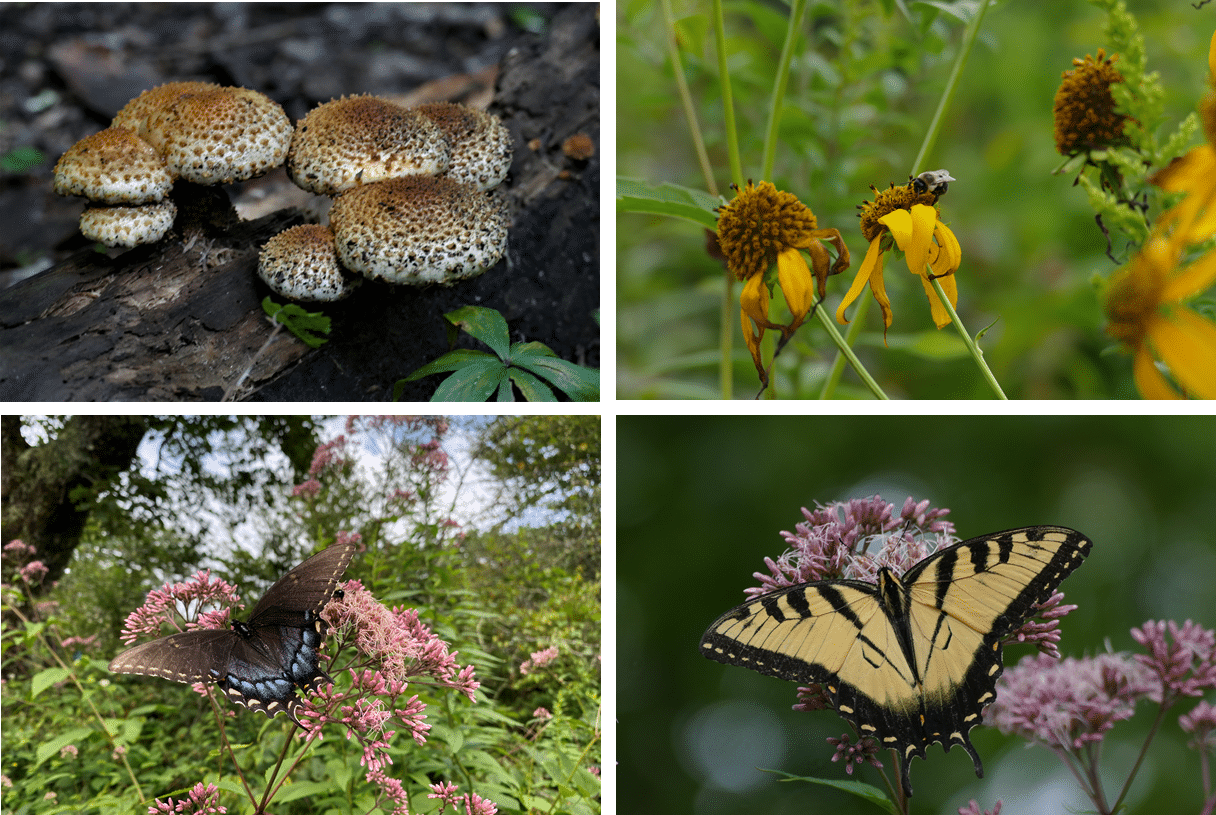 The return part of this hike is along the Ivestor Gap Trail.  This is mostly downhill and, as it is a former forestry road, it is relatively smooth and wide.  If you do this hike, we would suggest you park at the parking lot then walk the half mile on the paved road up to the trailhead.  This way, if you are getting a little tired (as we were) you finish the hike back at your car.
PISGAH INN
Andrea and I hadn't really hiked in quite a while, so we didn't want to push too hard on our first day.  To break things up we stopped for an excellent, socially-distanced meal at the Pisgah Inn (Milepost 408) and enjoyed the spectacular views from their patio.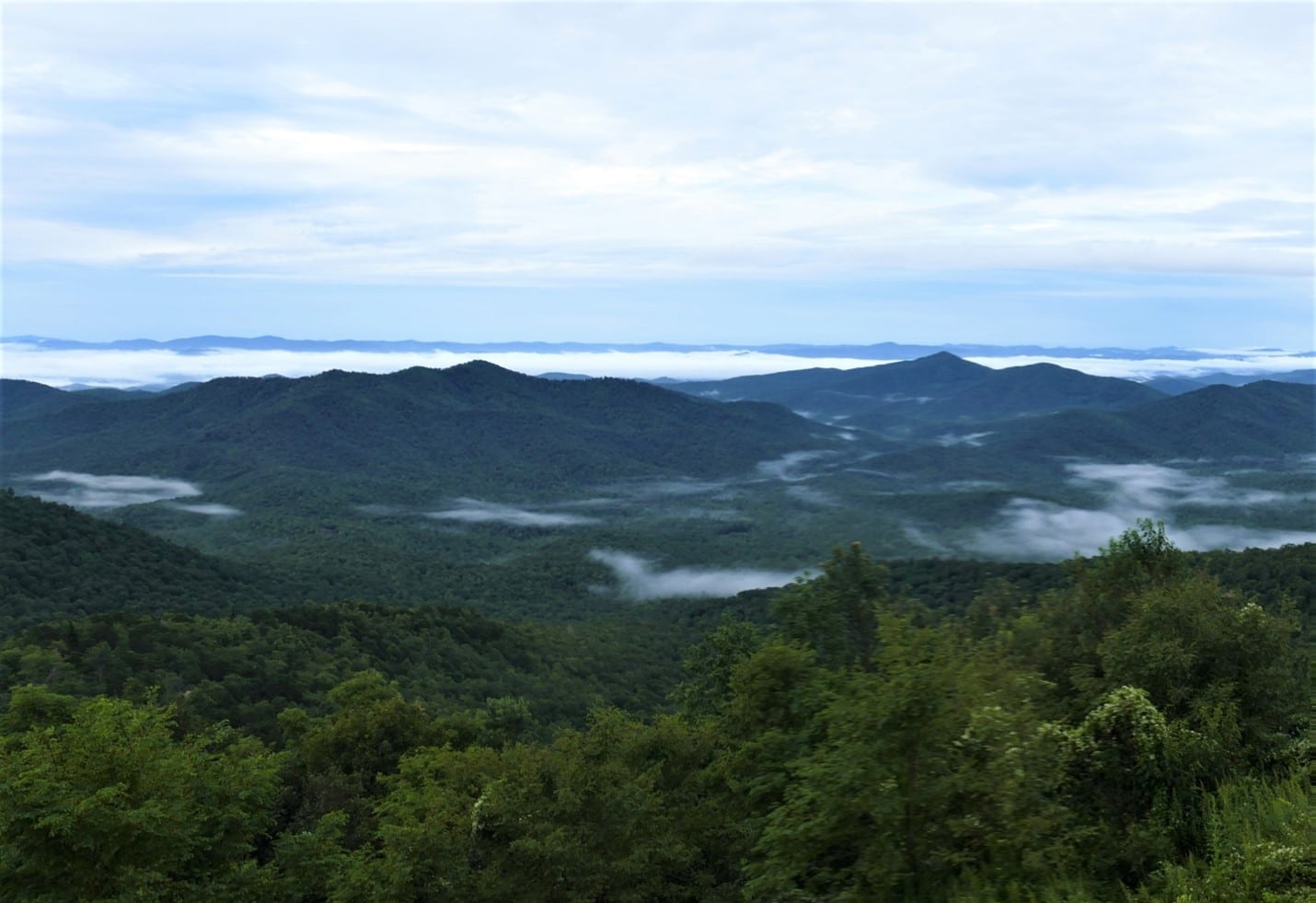 SKINNY DIP FALLS
Refreshed by a good lunch we then drove back to Milepost 417 for an easy 1.5 mile in-and-out hike to Skinny Dip Falls.  The short hike is rewarded by some interesting waypoints such as the "Deer Tree" and soothing babbling brooks.  Following the trail we reached the erstwhile waterfall and swimming hole and it was a delightful, cool and refreshing stop on a warm summer day.  (Note that, despite its name, Skinny Dip Falls is not "clothing optional".)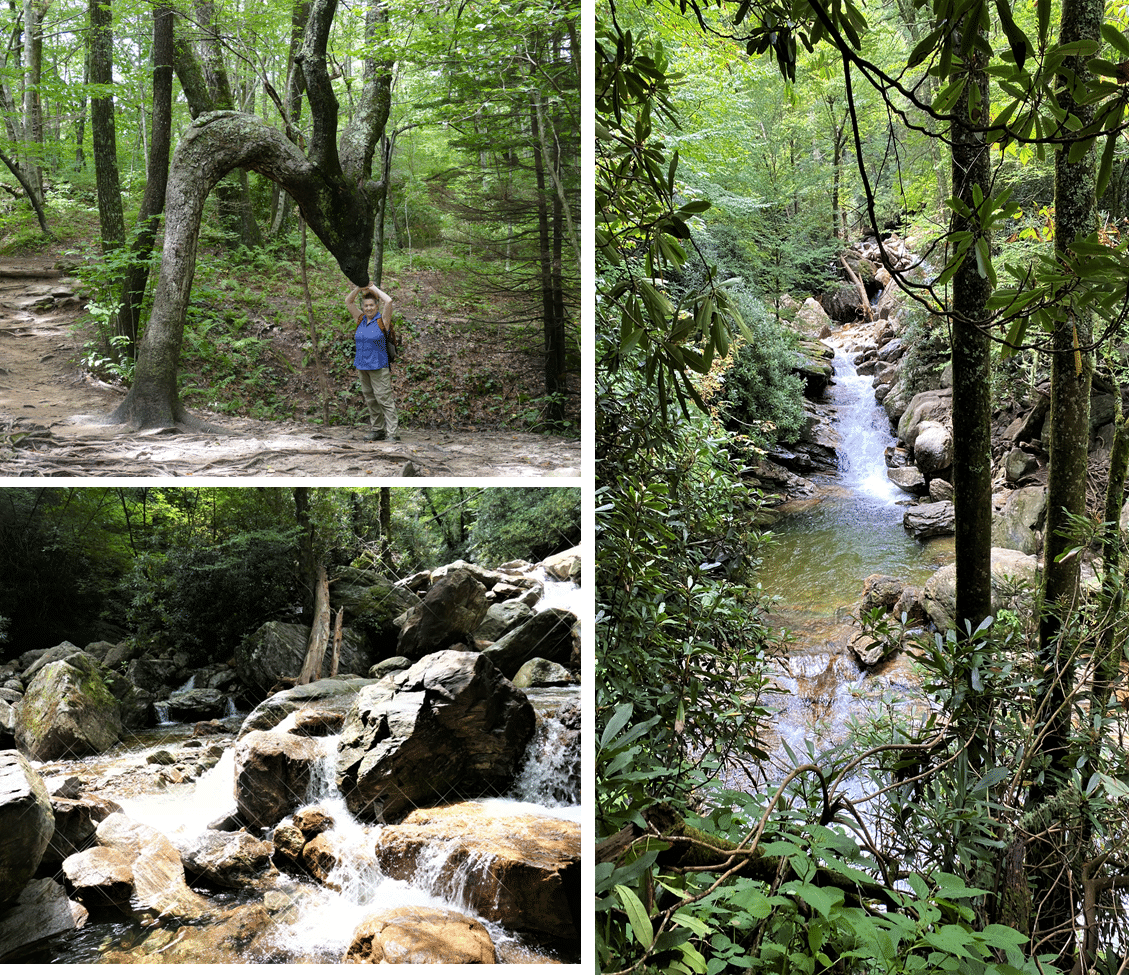 ASHEVILLE ARBORETUM
The only time we had been to the Asheville Arboretum was a flying visit a few years back when we went to retrieve a room key that a guest had lost out of their pocket the previous year and which had subsequently been uncovered by a weed whacker during the Arboretum's spring cleanup.  We decided therefore to pass through Asheville the next day and finally got a good look at the Arboretum.
It turned out to be a very well thought out mix of easy hiking trails and more formal gardens.  There is a sculpture garden dedicated to Frederick Law Olmsted, popularly considered to be the father of American landscape architecture.  The formal garden features a statue of Olmstead as well as the traveling exhibit, Nature Connects®: Art with LEGO® Bricks by Sean Kenney, featuring 16 larger-than-life-size sculptures placed throughout the Arboretum's gardens and created with nearly 500,000 LEGO Bricks
Strangely enough, the only wildlife we encountered was right at the visitors center where a black snake emerged from a planter and decided to cross the road.  Its passage was safeguarded by a host of visitors (incuding us) who had adopted the role of crossing guards to ensure the hapless serpent wasn't run over on the way.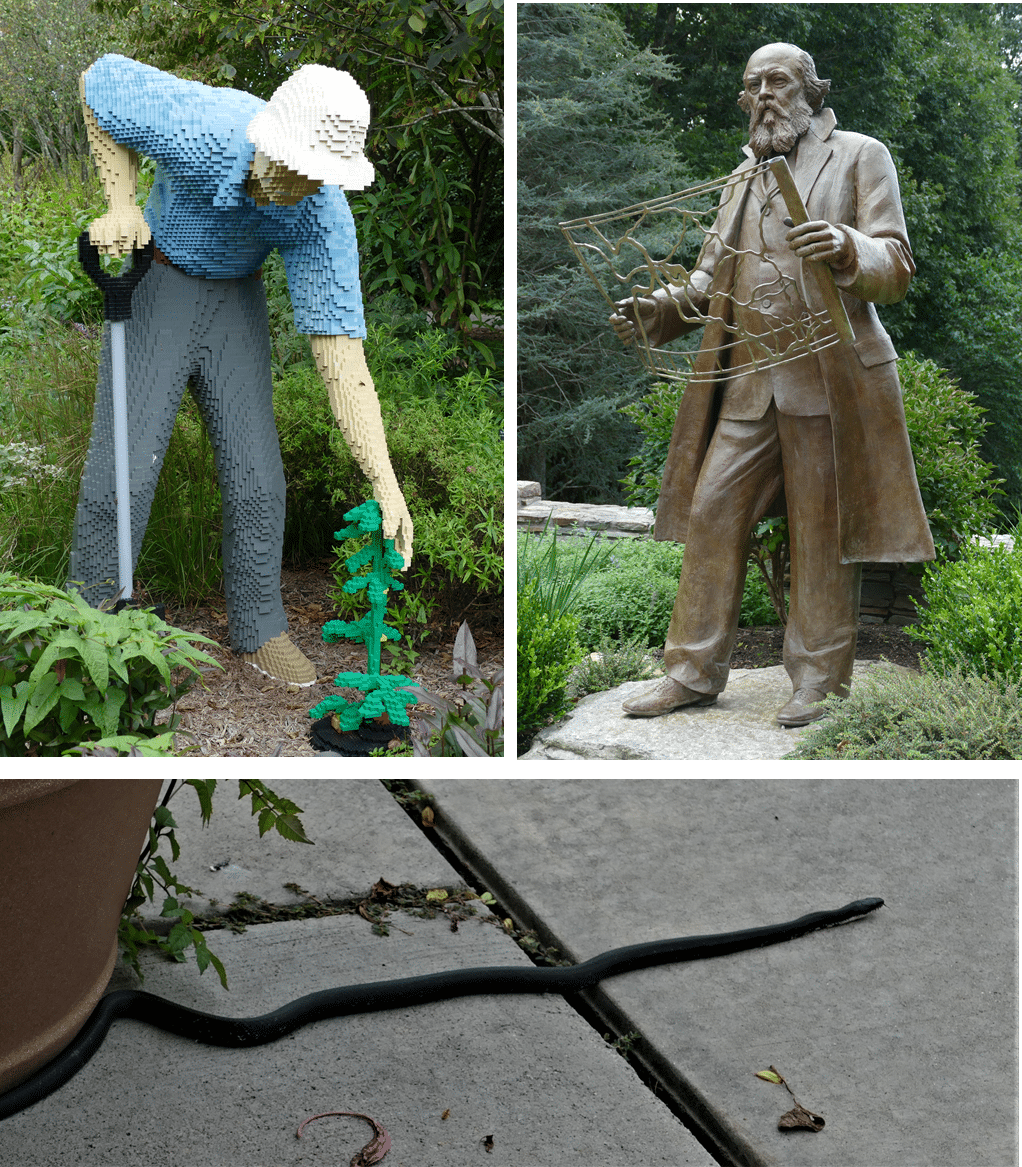 ASHEVILLE FARMERS' MARKET
Near to the Arboretum we also visited the Asheville farmers' market which is particularly well stocked with local produce and specialty items.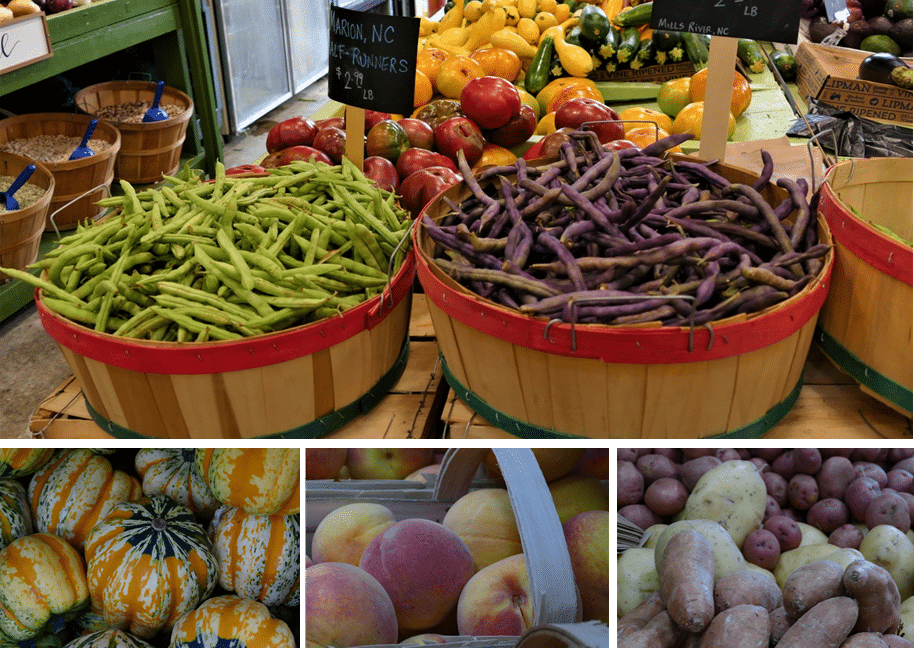 MOUNT MITCHELL
The next day we decided to visit the highest point east of the Mississippi River, Mount Mitchell (elevation 6,684 ft).  It is easy to get to by car on NC Highway 128, and the walk up to the observation tower from the parking lot is only a short (steep) quarter mile on a paved trail.   The day Andrea and I visited, a young gentleman took the opportunity to propose to his girlfriend (who fortunately accepted), prompting applause and cheers from the other visitors and several jokes along the lines of "now it's all downhill from here".  Mount Mitchell is often cloudy so choose your day, and remember at that elevation and exposure it can be a lot colder than Waynesville so take appropriate clothing.
Although the area is easily accessible as a day-trip from the Andon-Reid Inn, Andrea and I decided to treat ourselves and spend the night at Little Switzerland, the quaint 1910 Swiss-Chalet styled hotel just off Parkway Milepost 334.  With great food and a great view, it is an excellent waypoint even if you don't stay there.
LINVILLE FALLS
The final day of our little adventure took us first to Linville Falls at Milepost 316, one of North Carolina's most photographed waterfalls.  From the Visitor's Center there are several short hikes to the falls.  We took the Erwins View Trail which was a moderate 1.5 mile hike with a few steep climbs and excellent views of the falls and Linville Gorge.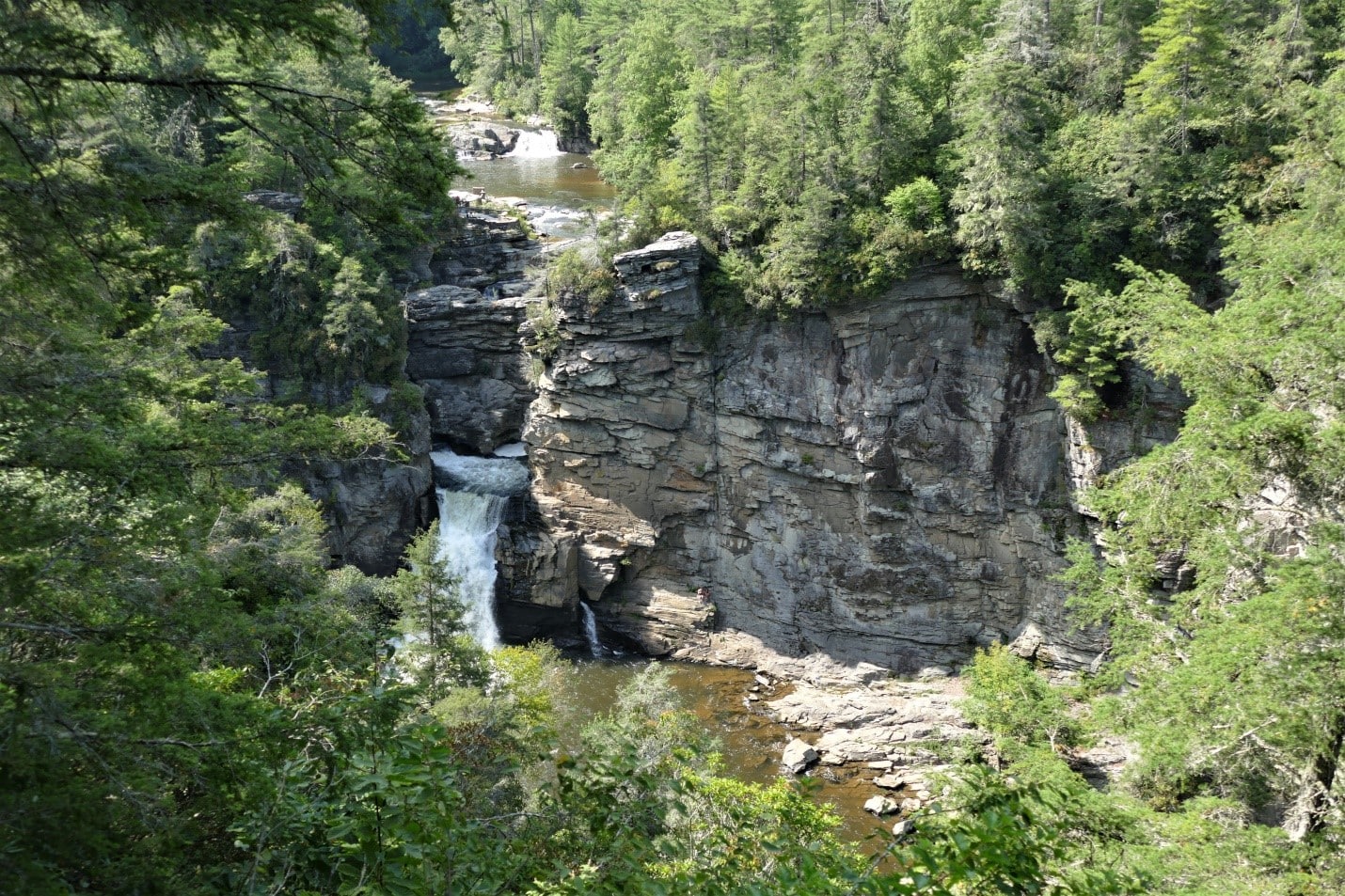 GRANDFATHER MOUNTAIN
The highlight of the day was the trip to Grandfather Mountain, a travel attraction with lots of great things to do.  It is run by the not-for-profit Grandfather Mountain Stewardship Foundation and there is an entrance fee ($22 pp when we visited).  The summit is known for extreme weather year-round including high winds (they set a record of 121 MPH in February 2019).
One of the main highlights is the mile high Swinging Bridge, America's highest suspension footbridge.  This 228-foot suspension bridge connects the main peak to a rocky outcrop with some exhilarating scrambles to get the views and take those daredevil selfies.

There are various hiking options including a few gentle nature walks, but in general don't believe the "moderate" rating of the main hiking trails.  The trails, when they are more or less level, can be really rocky. Many of the trails use ladders and cables to climb sheer cliff faces.  Stout boots and walking poles are strongly recommended.  If you can manage these hikes, however, the payoff can really be worth it.
Andrea and I hiked the Black Rock section of the summit trail and (after a ladder/cable effort) were presented with a fabulous vista.

As a reward for our valiant efforts we drove down to the main visitors' center via the Forest Gump Curve (it was featured in a scene in the movie where Tom Hanks is doing his trans-USA run) to have lunch and grab some fudge from the fudge shop.  We ate lunch on the deck and were thoroughly entertained by a bunch of cheeky squirrels and hummingbirds squabbling over the feeders.  This prompted us to visit our last stop on the mountain, the Wildlife Habitat.
The Habitat is a pleasant naturally-landscaped zoo with a collection of local native animals – bears, eagles, otters, elk and (if they are not snoozing) cougars.  It was an excellent place to shoot some wildlife close-ups without spending days hiding in a blind in the back country.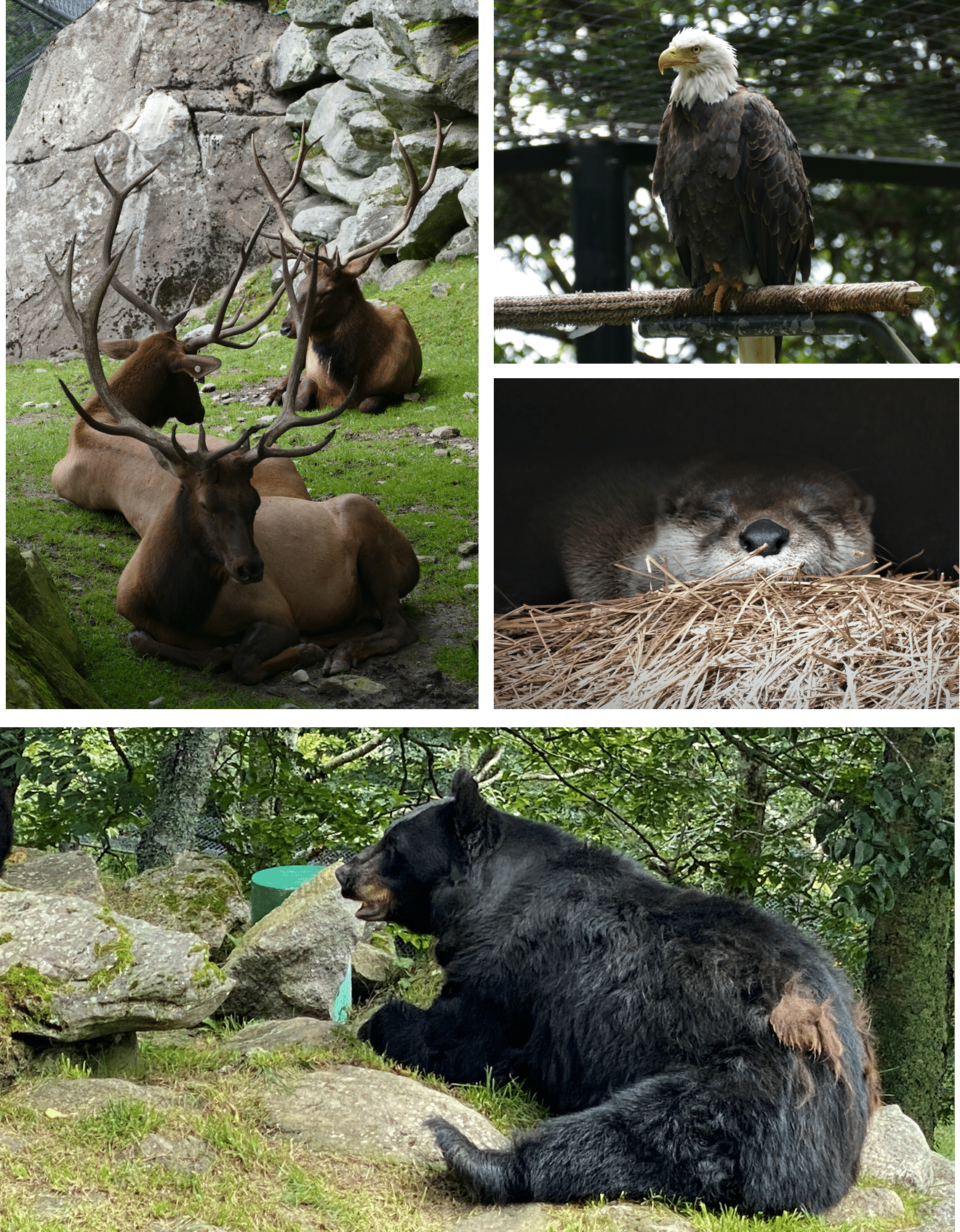 We eventually headed back to the Inn to prepare for our incoming guests, very satisfied that we had done justice to many of the wonderful sights and attractions in North Carolina that lie to the north of our bed and breakfast.  Come and stay with us and you can experience them too, whilst enjoying the comforts of the Andon-Reid Inn and the vibrant little town of Waynesville.  Call us on (828) 452 3089 to book your room or book directly online on our website www.andonreidinn.com.