By all measures this has been an unusual fall leaf-peeping season. The warm dry summer has affected the usually predictable progression of fall colors which normally starts in the high peaks and descends to the valleys. Instead this year we have an equally spectacular, but more arbitrary patchwork. Stretches of vivid fall color are interspersed with sections of green leaves and bare trees all along the local Blue Ridge Parkway and throughout the Waynesville area at all altitudes. I am pleased to say that the fall colors viewed from the Andon-Reid Inn patio are as gorgeous as ever, and am happy to share a snapshot of the scene that I took this morning.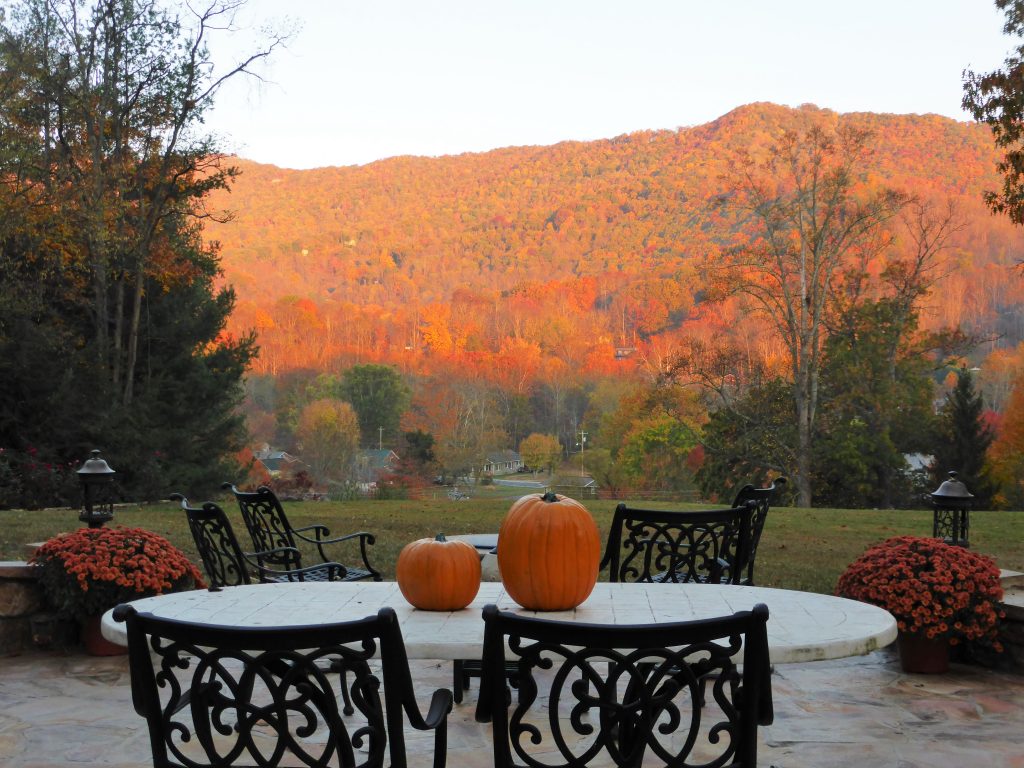 Of course with fall color comes falling leaves – lots and lots of them in this part of the world. I have been out daily with my new leaf blower clearing the driveway and paths, and our lawn guy has a Herculean de-leafing task on his weekly visit. That said, I think our next door neighbor took the concept of "fall" to an extreme.
One evening a few weeks ago, Andrea and I were startled by a crackling noise and then a loud boom. It sounded to us like a short display of fireworks. As no further noises ensued we knew this wasn't a pyrotechnic celebration so we grabbed our flashlights and walked around the grounds to investigate. We discovered that very large branch – from an even larger oak tree – had fallen in the neighbor's yard, fortunately narrowly missing his porch and car.
Apparently this was the second major branch to come down in recent weeks so our neighbor made the decision to take down the whole tree which duly happened a couple of mornings later. Other than trimming off the main branches the tree service decided to fell the whole massive trunk in one piece. They didn't even yell "timber" so the tranquil Andon-Reid Inn breakfast service that morning was interrupted by a mighty thump – much to everyone's surprise (and subsequent amusement). Although more light now gets into our kitchen we do miss the lovely old oak. Its remnants are being removed bit-by-bit but we posed Andrea for a photo by the trunk to give some idea of scale.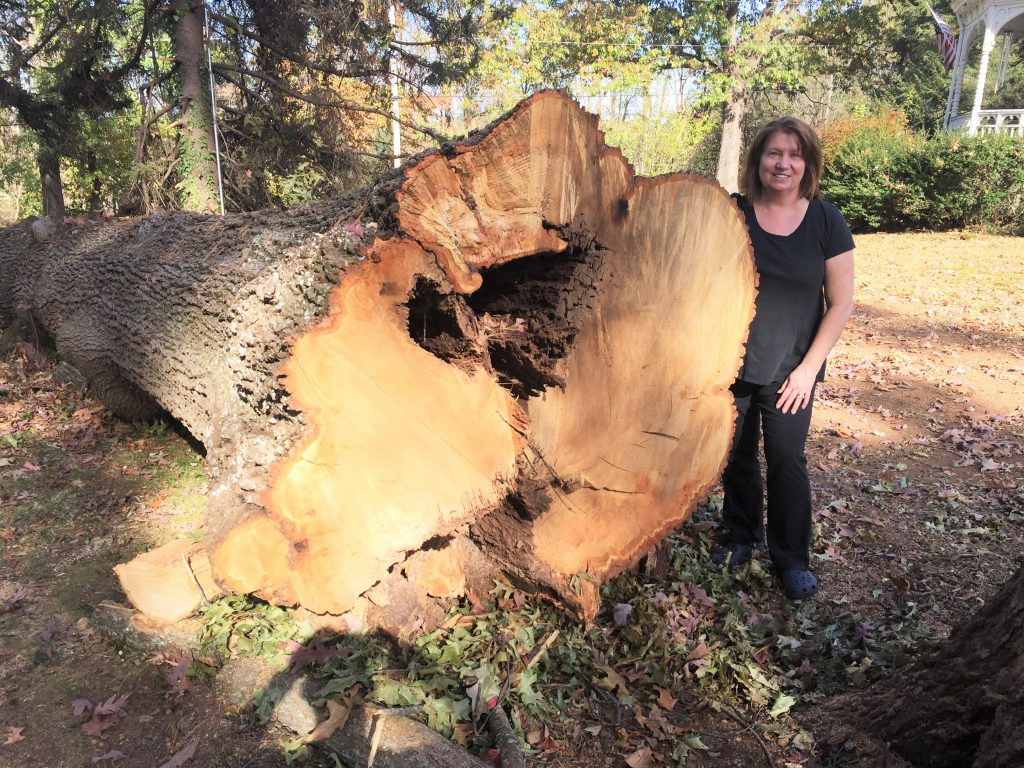 Hopefully next year the falling leaves will not involve falling trees. If you would like to experience the wonderful Waynesville leaf color at the Andon-Reid Inn, we suggest you call us (828) 452 3089 or go to our website www.andonreidinn.com to make your reservation quite early as we already have a considerable number of bookings for October 2017. We hope we'll see you then.