On our website and around the Inn, you may notice some references to "Select Registry."  There's even a fancy kiosk located on the guest lounge bar and a plaque on the wall outside the Grand Library Suite. If you love B&Bs and Inns like the Andon-Reid, don't pass by that kiosk! It's a great opportunity to earn loyalty points for your stays at the Inn and get introduced to other 01high-quality Inn experiences around the country.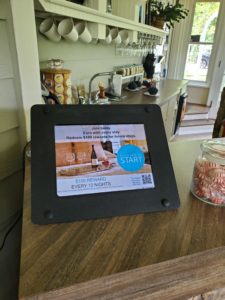 Select Registry is a diverse collection of independent, boutique properties that deliver a level of personalized service unheard of at hotel chains and a quality of experience only a select few independent properties can attain. To carry the Select Registry name, properties like the Andon-Reid must pass the most comprehensive quality inspections in the industry that evaluate everything from cleanliness to hospitality. The Andon-Reid is a proud member of Select Registry and we strive to meet and exceed their standards.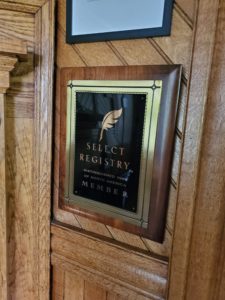 We want to ensure our guests are aware of Select Registry and its associated programs as well the benefits of signing up. It's a wonderful organization promoting unique, quality B&B experiences, like the Andon-Reid. When you stay at a Select Registry Inn or B&B, you log your stays via the kiosk or through your online account and earn points towards rewards. You receive one point for each night's stay at a Select Registry property and once you build up 12 points, you will earn a $100 reward that can be used towards future stays at the Andon-Reid or other Select Registry properties nationwide. Also, after logging just one night, you are entered into a drawing for a $100 gift certificate!
Don't forget to check out the InnScene magazine, which is a beautiful travel and lifestyle magazine featuring Select Registry properties as well as stories and features for folks who enjoy high-quality hospitality experiences. It is available to all guests at the Inn and is placed throughout the rooms and guest spaces.  Feel free to take one home with you!
In our own travels, one of the things that drew us to the Andon-Reid was how incredibly different the experience was from the traditional hotel – in terms of service, quality, hospitality, charm and attention to detail – all the hallmarks of a Select Registry Inn. There are so many great properties and small businesses on the Select Registry network. We hope our guests will take advantage of this special loyalty rewards program. Learn more about Select Registry here and make sure to sign up before your next stay with us!
–Brenda and Peter