We suppose we should start by introducing ourselves. I am George Jolesz, and together with my wonderful wife Andrea Tashik we have been the proud new owners of the Andon-Reid Inn since July 1, 2015.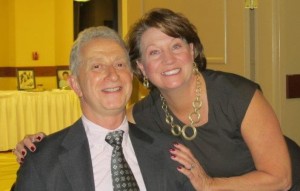 From the very beginning, acquiring and running the Andon-Reid Inn has been an amazing experience. Narrowing down this blog to five highlights from our first few weeks has been very difficult, but we hope you find some of our stories interesting.
Amazing Things Part 1 – The Inn of Serendipity
Finding and buying an Inn is a notoriously complicated business…unless serendipity steps in.
Andrea and I had been daydreaming about owning a bed and breakfast for more than twelve years. However, being based in the UK, and then moving to in China for five years , we couldn't seriously start looking until after I finished up my 30+ year career at IBM (the last five in China) and we were able to settle down permanently in the USA. As Andrea is a US citizen, returning to the USA posed no problem for her. On the other hand, as an Australian/Englishman, I had to wait over a year for my Green Card to be approved. Finally, in mid-March of this year, I became a legal alien and our search for the perfect B&B began in earnest. Based on the experience of others we were expecting the search to take months or even years, but things turned out a little differently.
We based ourselves in Northwest Florida near Andrea's family and signed up for the next available "Aspiring Innkeepers" seminar. We wanted to make sure we were well prepared for our B&B search. The seminar, run by the excellent B&B team, was in Kennebunkport, Maine in mid-April so we decided to combine it with a lengthy road trip that would let us view as many prospective Inns for sale as we could manage. Thanks to Andrea's amazing planning skills we ended up with a three and a half thousand mile driving itinerary and eighteen prospective inns to view.
The Andon-Reid Inn was not on the list of eighteen.   It was operating successfully under the careful management of Mark and Kari, friends of ours from China. Our search, however, did take us near Waynesville so we contacted Mark and Kari to see if we could drop in and get them to share some of their practical experience of innkeeping. We had a lovely visit at the Andon-Reid Inn, learned a lot from Mark and Kari, before continuing on our road trip and inn search.   We returned to Florida a few days later feeling a little disheartened as none of the eighteen inns for sale really fit the bill. We thought we were in for a long and disheartening search.
Then, later that week, we had our first experience of Andon-Reid Inn serendipity. We received a surprising email from Mark and Kari offered to let us buy the Andon-Reid Inn. It seems that, from a lifestyle perspective, they had gone into the B&B business a little too early and still had other things they wanted to achieve before settling into the full-time innkeepers life.   We suppose our visit may have prompted them to make a positive decision to sell.   Anyway, the price was fair and Mark and Kari are two of the most decent and trustworthy people we know. We therefore sealed the deal with a simple handshake and were well on the way to becoming innkeepers.
Before we could start living the dream, however, we had one more challenge to overcome. Mark and Kari managed to live comfortably in very compact accommodations – using one of the Inn's smallest rooms as their owner's quarters.   With our three cats and all of our "stuff" from our former large London home we simply needed more space. We contemplated fitting out the attic, borrowing some space in the basement, or possibly building a small owner's house somewhere on the Inn's grounds. None of these were ideal nor were they rapid solutions.
That's when Andon-Reid Inn serendipity stepped up again. Andrea had the bright idea of contacting a respected Waynesville estate agent, Rob Rowland, and asking him to discretely knock on the door of all the properties surrounding the Andon-Reid just to find out if they were interested in selling to us. Clearly this unsolicited approach was a long shot but worth a try – and it paid off. The owners of the house and land behind the Andon-Reid Inn were interested in a sale and we swiftly agreed a price and moved to a rapid completion.   When we looked at the deeds, to our surprise, we discovered that the house we had just bought was originally a part of the Andon-Reid Inn property. That would explain the identical wallpaper in both kitchens. We had unwittingly reunited the original estate.
So as we look back, we are now sure that it had to be fate that led us to become the owners of the Andon-Reid Inn. Because of old friendships forged in China we were in the right place at the right time and a fabulous B&B that was not on the market was offered to us. We then found the best possible house as our owner's quarters, also not on the market, and realized we had recreated the original property boundaries at the same time.   The Andon-Reid Inn has surely been the "Inn of Serendipity".   We are looking forward to the next lucky break it brings our way.