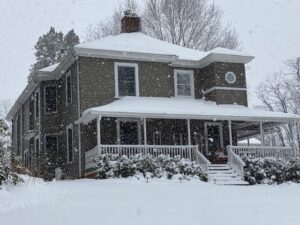 Three years ago, after a substantial snowfall that took me two backbreaking days to shovel off the Andon-Reid Inn's driveway and parking lot I decided to make my life easier and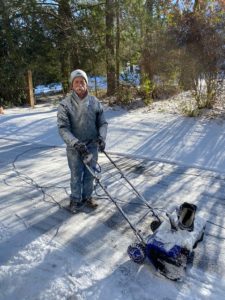 bought a small snow blower.  Mild winters followed and the snow blower sat unopened in its box until last week when we finally had a proper snow day in Waynesville – not a New England style blizzard mind you, but a few inches of snow that makes the place look pretty while leaving the roads fairly clear and navigable.
Oh what a joy it was to set up the snow blower and then watch it effortlessly fling the snow away while I gently pushed it up and down the driveway.  As a novice user I did learn the hard way, however, that there are some tricks of the trade.  For instance, if the wind is blowing toward you while the blower is churning up a plume of powdered snow, the snow all lands on you.  Within a few minutes you end up looking like something that is halfway between a polar explorer and a full-blown snowman and feeling just as chilly.  Nevertheless, a job that would have taken me days took only a couple of hours and I'll gladly do it again – hooray for the snow blower.
Snow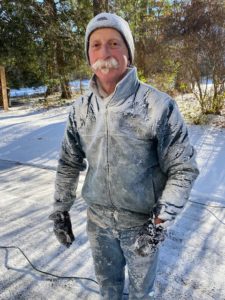 or no snow, winter is a great time to visit the Andon-Reid Inn. Stay in one of our seven cozy rooms and suites (each with its own fireplace).  Savor our delicious breakfasts, afternoon baked treats, coffee and specialty teas.  Hang out in our large games room with its pool table, table shuffleboard, darts, workout equipment, sauna, library, board games and TV lounge.  Explore the quiet uncrowded mountains and vibrant, downtown Waynesville; or simply enjoy the lovely mountain views from our warm and comfortable guest lounge.  Just call us on (828) 452 3089 or visit our website www.andonreidinn.com to make a booking and take advantage of our low winter rates.