We recently received a wonderful review from one of our amazing guests that helped to highlight the experience we want guests to have with our breakfast and snack offerings at the Andon-Reid Inn. This guest noted "the breakfasts were outstanding every day…something familiar along with something creative. There are also ample beverages and flavored water available in the afternoons, along with a wonderful baked treat." The comment about "something familiar along with something creative" really stuck out to us as a great way to sum up our "culinary philosophy" here at the Inn. Cooking and baking is a labor of love for both of us and to have our philosophy summed up so succinctly really made us feel good. We strive to provide a food and snack experience that is simple yet creative and comfortable yet unique. Given that we have just one item on our daily menu, we want to ensure that all of our guests can enjoy their experience, which is why we also try our best to alternate daily between sweet and savory and to accommodate all dietary restrictions with dishes similar to our standard menu item for the day. We also try hard to incorporate local ingredients from the Western Carolina area like strawberries in spring, peaches and blackberries in the summer, apples and pears in the fall and winter, plus meat from local farms and sauces, jams and oils from local artisans.
To help visualize how we think about our cooking and baking and planning our menus at the Inn, let's go through some of our favorite recipes, course-by-course, one-by-one (cue "Be Our Guest" from Beauty and the Beast in the background):
For starters, we like to begin our two-course breakfast service with a lighter fruit or sweet course. As odd as it sounds, a lot of our starters are inspired by lighter desserts. As an example, one of our guest favorites is Vanilla Panna Cotta with Berry Sauce, which is traditionally a dessert, but it's so light and delicate that it's the perfect start to the day and goes well with both sweet and savory main courses. Another example of dessert inspiring our starters is our fruit salad dishes. During watermelon season, we serve a Watermelon and Blueberry Fruit Salad accompanied by a Mint Crème Anglaise. The mint notes and silky smooth crème add a level to the traditional fruit salad, while the dish still remains light and refreshing. In the cooler months, we pair the crème anglaise with fresh berries and granola.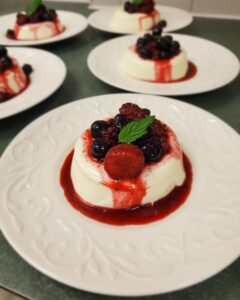 For our main courses, as we noted, we have worked hard over the past year to build up our savory menu options, as we know that guest preferences tend to split 50/50 along the sweet/savory question. We are particularly proud of our Sausage, Egg and Cheese Flautas with Lime Crema and Avocado Pico de Gallo. It definitely takes a familiar breakfast flavor combination and adds in that layer of unique that makes breakfast at the Inn a special experience.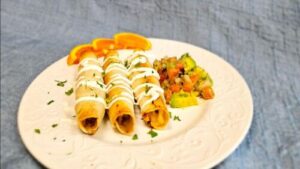 Another savory item we've introduced is our side dish of a Southern-Style Grits Cake topped with a Peach-Red Pepper Jam. When we tasted the Peach-Red Pepper Jam from Copper Pot and Wooden Spoon at the Farmer's Market in Waynesville, we knew immediately that it would take our grits dish to the next level, yet keep it as something that most palettes would enjoy.
Of course, we continue to serve sweeter breakfast classics with a touch of creative flair, like our Banana-Nut Butterscotch Waffles, Pineapple Pancakes with Toasted Coconut, Orange-infused French Toast with Pistachios and Chocolate Sauce, plus the recipe we get asked for the most by guests, our Blueberry Baked Oatmeal with Homemade Almond Whipped Cream. During a two night stay here at the Inn, we hope to be able to serve you a variety of dishes and a wide range of flavors to get the day started right.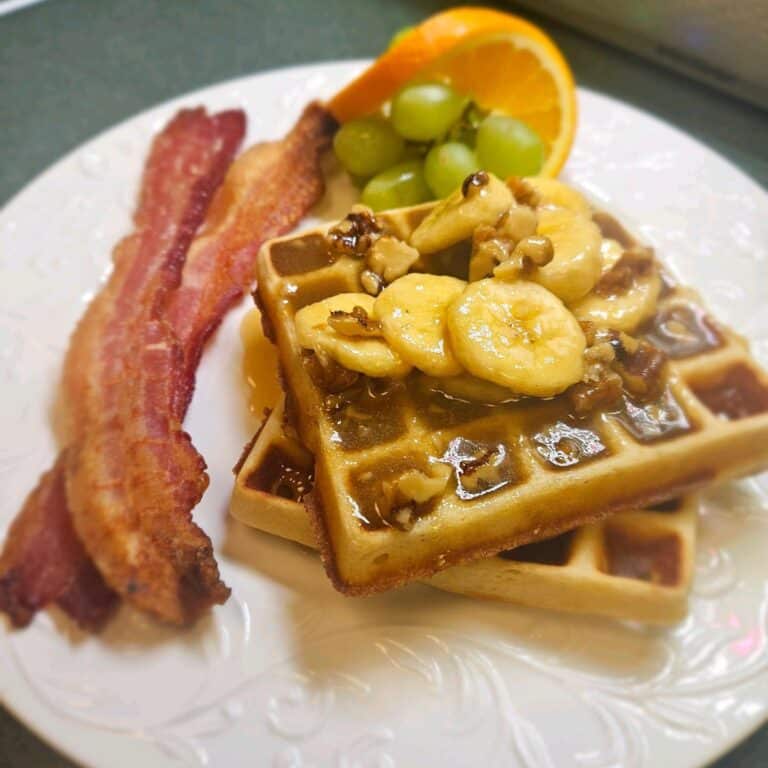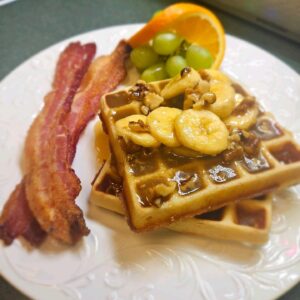 And in the afternoon, we aim to please with both classic and creative baked goods to give guests a touch of home yet also unique and perfectly paired with a cup of coffee or tea. For example, brownies are an absolute classic, yet we add in Blood Orange Olive Oil from Corner Station Olive Oil to give the brownies an exciting twist. And another one of our favorite afternoon desserts we feature is Cheerwine Cherry Cupcakes, which are so fun and so pretty sitting in the cloche on the guest lounge waiting to be devoured. Cheerwine is a classic North Carolina soft drink and incorporating that into a cupcake was simply amazing fun. And sometimes, the classic recipes don't need much changing, as one of our most popular afternoon baked items are good, old-fashioned Magic Bars. If it ain't broke, don't fix it! Yum!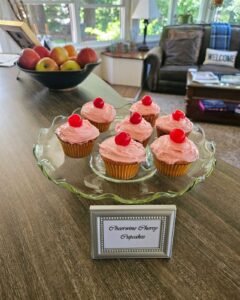 We hope our guests can see how much we love cooking and baking for them and coming up with dishes and snacks that are elevated yet also down-home comfortable. While super fancy can be good, we want the Andon-Reid to feel like a second home with a family atmosphere. Labeling our food as "something familiar along with something creative" is a perfect way to define what we are trying to achieve with our food and we will continue to seek out and perfect the best of the best recipes we can find with this fully at the front of our minds. Maybe someday we will even have our own cookbook!
We often post pictures of our breakfast dishes and afternoon snacks on our Instagram Page. Follow us there to see pictures of our food along with other visual updates from us!
See you soon at the Inn!!
Your Innkeepers,
Brenda and Peter