I must confess to being a big city boy. I have spent most of my life in cities with 2 to 8 million inhabitants including Sydney, London, Budapest and Shenzhen. I have loved all the excitement and variety and have willingly put up with the pollution, crime and overcrowding.
So you can imagine that I might have thought that moving to Waynesville (population 9,700) would be quite a culture shock. I had visions of stepping into Pleasantville (the movie not the town in Iowa) or a Norman Rockwell painting where I would pluck my guitar with a band of other old coots around a wood stove in the back of the general store.   What a surprise Waynesville turned out to be.
For a start, Andrea and I love good food and Waynesville is blessed with a plethora of great restaurants covering all tastes and budgets.
Downtown, for fine dining at a leisurely pace we love Chef's Table.   An equal favorite downtown is Frog's Leap who has an inventive modern Southern menu and a great bar. Nearby we often go to the WineSeller for small plates and wine, or fantastic themed wine pairing dinners and entertainment. We also love Boojum and The Tipping Pont, both excellent microbreweries with upscale pub food.   Oh, and don't forget Nick and Nates for fresh pizza and Blossom on Main for surprisingly good Thai food.
Just outside the downtown area is the Haywood Smokehouse for truly excellent barbecue. Nearby everyone loves Bogarts – down home cooking and great steaks. Pasquales is another regular stop for us, good honest mom and pop Italian. Maggie's Galley continues to serve the freshest fish and seafood despite being located here in the Smoky Mountains, and we must also mention the Bourbon Barrel for an eclectic and delicious menu.
Waynesville's br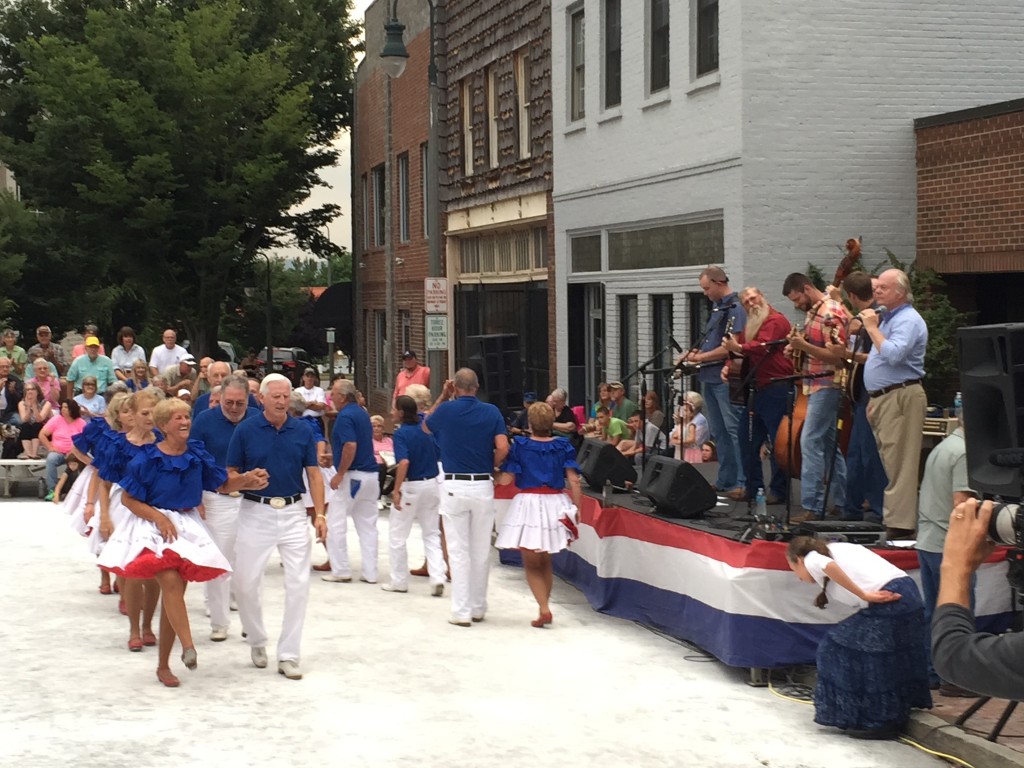 illiant amenities don't stop with food alone. It has great live theater at the highly regarded Hart Theatre where our guests have recently enjoyed excellent productions of Rogers and Hammerstein and Steven Sondheim musicals.
During the season Waynesville puts on a wide range of fine cultural entertainment such as the Folkmoot festival that host singers, musicians and dancers from 20 different countries. Waynesville also organizes "Art after Dark" every month when the many fine artists and sculptors of the town open up their galleries downtown and display their work.
Finally I have to mention the street dances held every two weeks during the summer.   This is a little bit Norman Rockwell, but it's great fun and it's free. Main Street is closed to traffic and two or three fine local traditional bands playing fine old mountain music while the local state senator Joe Sam Queen calls the steps and encourages everyone to join in. The evening usually includes a performance by one of the local clogging groups and spectating is as much fun as participating.
As I have only been here a few short months and have spent most of my time at the Andon-Reid Inn keeping our guests happy I'm sure I haven't started to really scratch the surface of what Waynesville has to offer.   Even so, I am surprised by the range and quality of amenities. For a small town Waynesville certainly punches well above its weight.