Our first weekend running the Andon-Reid Inn was the 4th of July. The Inn was absolutely full and we had to get to grips with the B&B business very quickly. Nevertheless, we had lovely guests and Andrea and I, aided by our wonderful team of Ashley and Amber, were in a cheerful and eager 4th of July mood. To celebrate we decorated the Inn with loads of patriotic bunting and whipped up special breakfast treats like our "Red White and Blue Breakfast Parfaits".
Our guests were all geared up to go off and enjoy the renowned fireworks display held nearby at Lake Junaluska. We packed them off with our good wishes, blankets to spread on the ground, and the hopes of a thrilling show of pyrotechnics. Unfortunately for us, part of the role of an innkeeper is to stay behind at the Inn and make sure everything is comfortable and ready for our guests' return.  As I was brand new to the USA, missing out on my first proper 4th of July was not what I had hoped for. That's when Mother Nature came to the rescue.
Coming from Australia, I'm used to all manner of weird and wonderful surprises from nature – Kangaroos, the Platypus, the Tasmanian Devil and cute Koalas just to name a few. None of these prepared me for the enchanting natural firework display put on by the Andon-Reid Inn's fireflies that danced around the trees at the back of our property as soon as it was dark.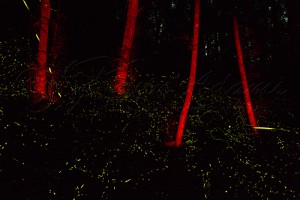 I had never seen fireflies before, certainly not in this profusion. It was like watching an extravagant Christmas light show that swirled and moved in a dazzling array of patterns. This magical display then continued nightly for several more weeks with the last stragglers still flickering here and there in the mid-August night.
As far as I am now concerned, you can keep your fancy man-made fireworks. I can't wait till next July when Mother Nature's Firework Display starts again. Come and stay at the Andon-Reid Inn and join us for a front row seat.
(Firefly photo courtesy of renowned Waynesville photographer Kevin Adams www.kadamsphoto.com )