As North Carolina cautiously reopens for business, we are delighted to announce that, since Friday May 8, the Andon-Reid Inn has been able to accept reservations for leisure travel. Late spring is a stunning time of year to visit the North Carolina Mountains. Our rhododendrons and azaleas are in full bloom, the irises are opening up, the ferns are back on the Andon-Reid Inn porch, and warm days and cool nights are once again becoming the norm.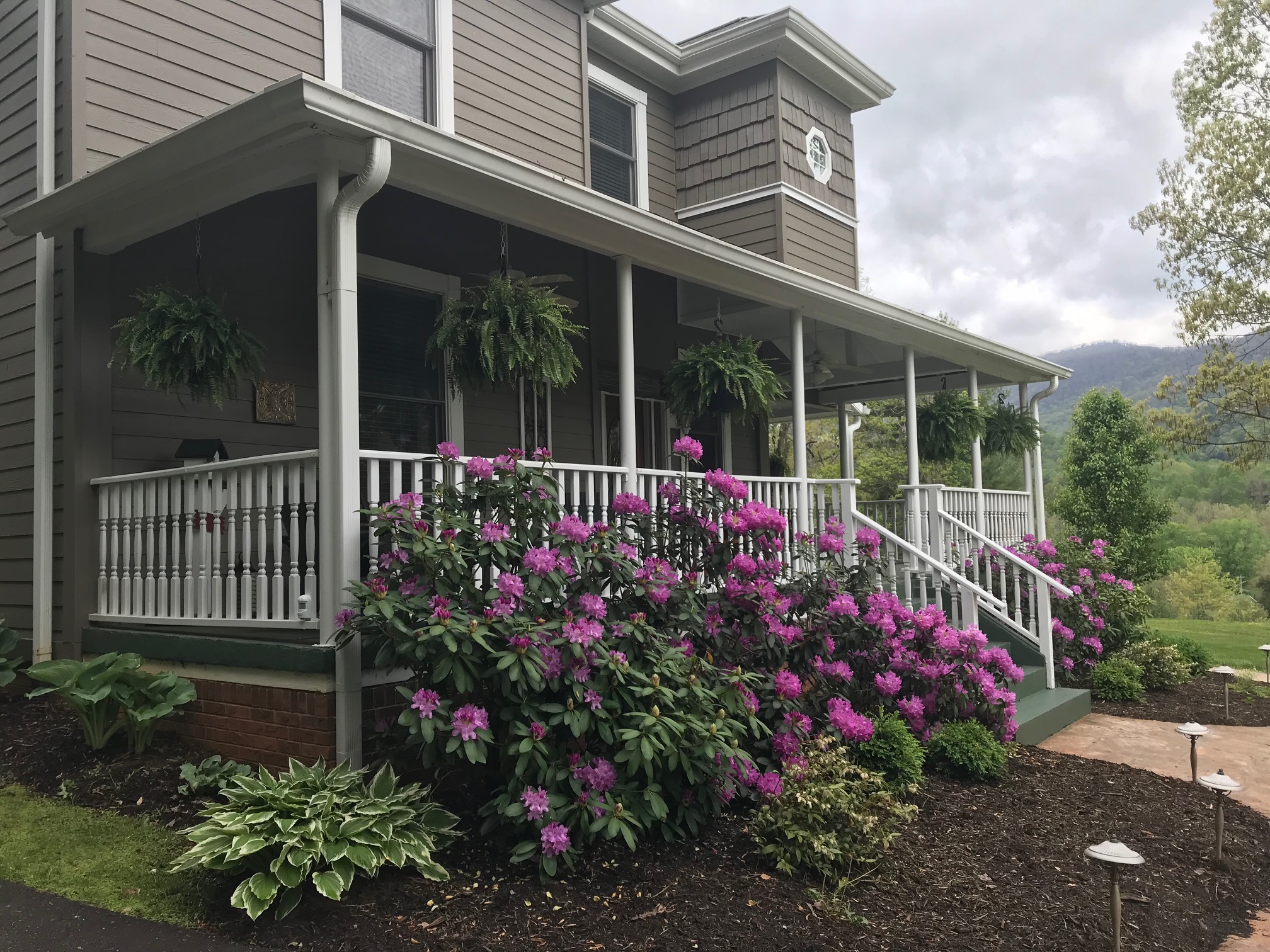 Time to get out and about again…safely.
For many of us, cabin fever has set in after weeks of "sheltering in place" and the desire to get away, enjoy a change of scenery and to replenish our spirits is strong. Of course, the COVID-19 pandemic is not yet over, so any travel needs to be tempered with a degree of pragmatism and caution. We think a stay at a B&B like the Ando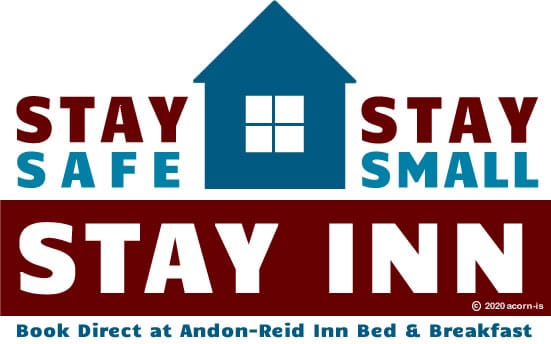 n-Reid Inn strikes the ideal balance and is summed up nicely by this logo (many thanks to our IT/marketing partner Acorn). A B&B like the Andon-Reid Inn is a Stay Safe option because we are in driving distance of home for the majority of our guests and that means you can "social distance" the journey here in your own car rather than flying or other shared transport. We are a seven room inn, with many public and outdoor spaces, and by Staying Small you are not rubbing shoulders with large crowds of strangers at a hotel or resort. We can't wait to see you. Call us on (828) 452 3089 to book your room or click on the Check Availability/Book Online button at the top of this page.
What you can expect during your stay
Of course, none of us are entirely back to business as usual. Some roads, parks and trails are yet to reopen or are open with restrictions and, until the State enters Phase 2 of reopening (hopefully in about 2 weeks time), bars, theatres, hairdressers etc. remain closed and restaurants are only allowed to provide take-out service. While the threat of COVID-19 persists the Andon-Reid Inn will also be taking special precautions to help protect the health and safety of our guests, our staff and our community.
Hygiene
First and foremost will be our continued focus on hygiene. Given Andrea's nursing and hospital management background hygiene has always been a slightly obsessive part of our daily routine. We have always cleaned all hard surfaces with commercial grade disinfectant. We have always washed sheets, blankets, towels and table linens in hot water with sanitizing additive, and our kitchen and food service regularly receives a 100% health inspection rating. In addition to this, while the risk of COVID-19 persists we will be:
Providing hand sanitizer in our public areas
Disinfecting all commonly used public surfaces more frequently
Quarantining rooms between guest stays
Providing individually wrapped portions of our afternoon baked treats
Providing clean crockery, flatware and glassware for you to enjoy your take-out meals in comfort.
Suspending the normal daily room refresh to minimize cross-contamination. Instead we will replenish towels and amenities, and remove trash etc. on request.
Social distancing
Part of the joy of staying in a bed and breakfast is the experience of interacting with other guests and the owners. However, as mandated by the Governor, and because we want you to feel safe and comfortable, some social-distancing will be necessary for the time being. For instance:
We will offer contactless check-in and check-out
We may restrict room allocation to avoid close contact between guests on stairs and hallways
We will be serving breakfast at individual tables separated by 6' or greater. If, due to numbers, we are unable to accommodate you at these tables, we may instead provide complimentary in-room breakfast if you are staying in the Garden Suite, Carriage House Suite, Magnolia Suite
We will be replacing self-service morning coffee with table service or room service, as always Keurig is available in room and in the guest lounge
If you wish to avoid any guest contact, you can choose the Garden Suite or Carriage House Suite which both have private entrances to the parking lot
COVID-19 additional policies and guest responsibilities
We ask that you inform us upon booking, or immediately after you become aware, that:
You are exhibiting any of the symptoms of COVID-19 or have tested positive for COVID-19
You have been in contact with anyone exhibiting any of the symptoms of COVID-19, or who has tested positive for COVID-19
You are under COVID-19 quarantine
You are traveling from a location under a current "stay home" or "stay in place" order
We ask that you adhere to any hygiene and social distancing requirements required by local orders during your visit and any additional requirements that the Andon-Reid Inn believes may be necessary to help safeguard the health of our guests, staff and community.
Due to overall supply shortages, the Andon-Reid Inn is unable to supply guests with Personal Protection Equipment (PPE) such as face masks and gloves. We ask that you please bring with you any PPE necessary for your stay.
The Andon-Reid Inn is taking additional hygiene and social distancing measures to protect our guests, staff and community from COVID-19. However, due to the nature of this illness, its method of transmission and the difficulty in early diagnosis, we cannot guarantee your complete safety. We are therefore unable to accept any liability for infection by COVID-19 that may occur as a result of your stay at the Andon-Reid Inn. You therefore confirm that your stay at the Andon-Reid Inn is at your own risk in relation to COVID-19.