Last Saturday, June 15 was international Vegemite day.  As I had explained in a previous post, we decided to celebrate this momentous occasion by offering our guests a sample of Vegemite prepared the true Australian way.
As it happened, all our rooms at the Andon-Reid Inn were full on the 15th, providing us with a statistically significant sample set for our experiment.  I suspect, however, that this was a coincidence and not due to people eagerly booking rooms to participate in the Vegemite challenge.
Vegemite on buttered toast points was duly offered to our guests in between the first breakfast course (mango, peach & yogurt mousse) and the main course (sweet potato and honey pancakes with maple-brown sugar butter and a fluffy ham, cheese tomato scramble).  The outcome of the challenge was a pleasant surprise.  50% of our guests actually professed to like the stuff and earned the coveted accolade of "happy little Vegemites".  A "bonza result mate" as we would say down-under.  The full scores are shown in the graph below.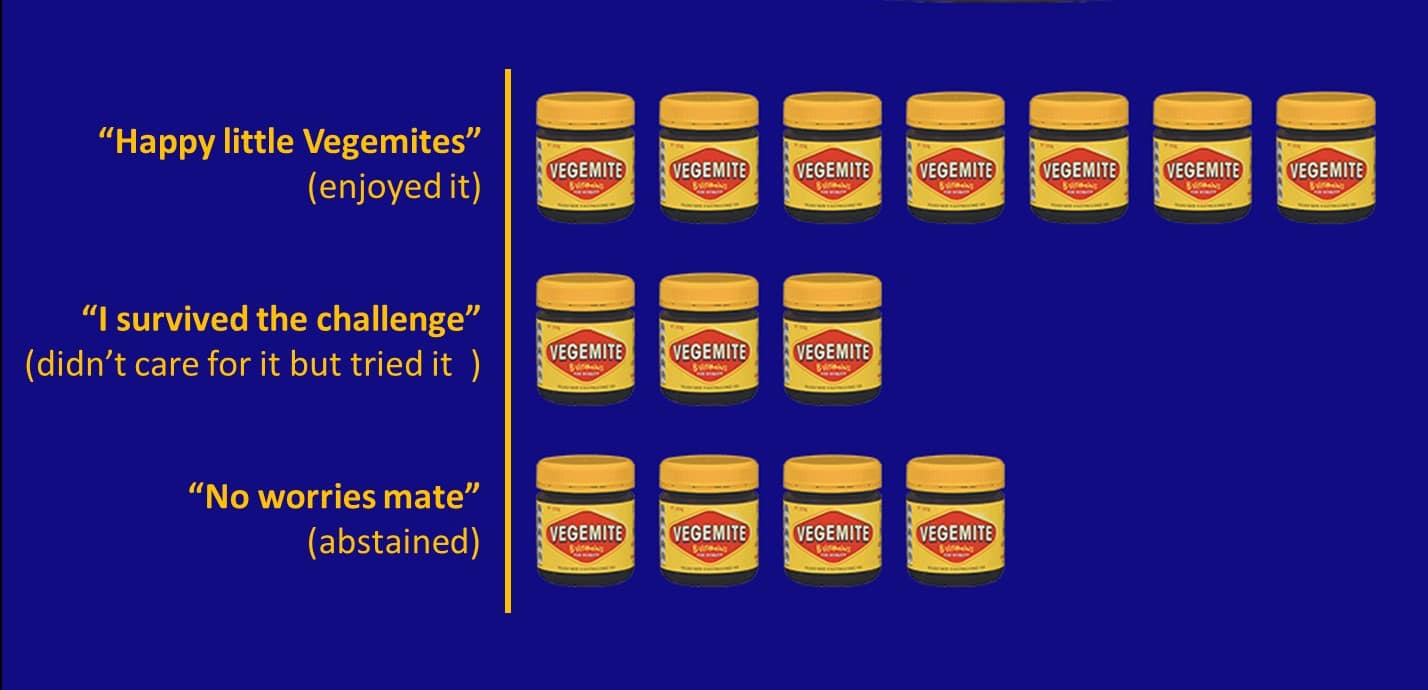 In case you're wondering what "happy little Vegemites" means, here is the link to the 1960's jingle  https://youtu.be/JUxun4OZXS0  and here are the lyrics so you can sing along.
We're happy little Vegemites
As bright as bright can be.
We all enjoy our Vegemite
For breakfast, lunch, and tea.
Our mummies say we're growing stronger
Every single week,
Because we love our Vegemite
We all adore our Vegemite
It puts a rose in every cheek
Even when it is not international Vegemite day we always keep Vegemite on hand in the innkeepers' personal pantry.  If you would like to give the great Aussie spread a try at any time, call us on (828) 452 3089 to book your room, or book directly on our website www.andonreidinn.com and we'll be happy to oblige.  Of course you'll also enjoy our delicious made-from-scratch breakfast to compliment (or compensate for) the Vegemite experience.