We know you are probably being inundated with notices about COVID 19, but we wanted to share what we are doing about it at the Andon-Reid Inn.
We are open
We are remaining fully open and are happy to take any and all normal bookings. Do you need to get away from the madding crowds? The fresh air of the mountains, wonderful Waynesville, and the clean comfort of the Andon-Reid Inn is the ideal place to go.
We have relaxed our cancellation policy
We recognize that these are challenging times and that the situation with travel and other restrictions is fluid. For the time being:
* We will not ask for a deposit prior to your stay
* We have waived our initial 14 day cancellation period. You can now cancel any time between 14 days and 3 days in advance of your booking without penalty
* Cancellations within 3 days are still liable for the full cost of your booking, but if there are extenuating circumstances you can:
* Re-book without penalty
* We can provide you with an Andon-Reid Inn gift certificate for the full value of your booking that you can use for a future stay (some restrictions apply)
We are taking additional precautions to safeguard everyone's health
Above and beyond what we have normally done to earn our 100% sanitation rating:
* Warm smiles and elbow bumps are temporarily replacing handshakes and hugs, but our hospitality remains undiminished
* We are carrying out additional sanitizing of our rooms and linens
* We are regularly disinfecting all commonly used public surfaces using extra powerful disinfectant
* We have provided hand sanitizer in our public areas
* Andon-Reid Inn owners and staff are fully briefed and carrying out necessary personal hygiene precautions
We are making it easy to maintain your "social distance"
Our communal sit-down-together breakfasts are still available, but if you prefer:
* We can sit you at separate tables or even separate rooms
* We can adjust the timing of your breakfast so there are less people in the breakfast room at the same time
* You can choose to have FREE room service breakfast if you are staying in the Garden Suite, Carriage House Suite or Magnolia Suite (sorry but our other rooms are not equipped for in-room dining)
* The Carriage House Suite and the Garden Suite both have private entrances if you want complete separation from other guests.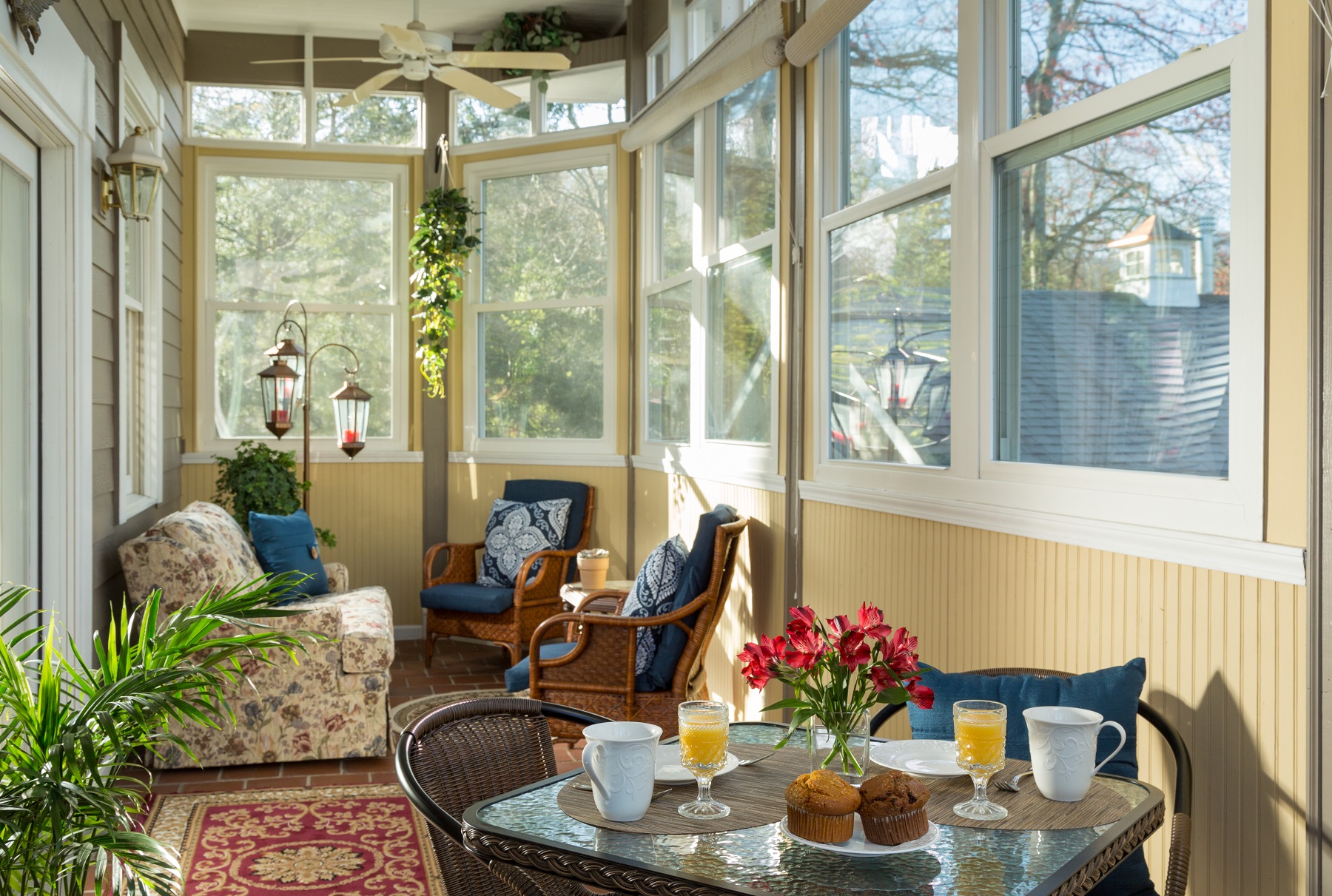 There are still many ways to have a really enjoyable stay
This is a beautiful time to marvel in the great outdoors around the Waynesville area.
* There are miles and miles of quiet hiking trails fringed with Spring wildflowers just waiting for you
* Scenic drives on the Blue Ridge Parkway and around the National and State Parks will be less busy and more relaxing
* Beautiful waterfalls, majestic herds of elk and other local wildlife are indifferent to COVID19 and would be delighted to greet you
You can still enjoy Waynesville's excellent dining scene
Although the Governor has temporarily suspended sit-down dining in all, many of Waynesville's excellent restaurants are remaining open for carry out service.
Feel free to pick up your favorite food and bring it back to the Andon-Reid Inn where we will be happy to set up a table for your in-house dining pleasure, complete with all necessary china, crystal and flatware.
If you just want to stay in, you can simply cocoon yourself at the Inn
* All our rooms feature comfy sitting areas and fireplaces where you can curl up an read a good book – choose from our extensive library
* We have great free wi-fi throughout out rooms and public areas
* The games room is an oasis of fun, with its pool table, table shuffleboard, darts, board games, workout equipment and more
* The widescreen TV and comfortable seating in the TV area is an excellent place to catch up on news, your favorite program, or watch one of the 1000 plus DVDs that we have on offer
* Weather permitting we'll be glad to light up the firepit so you can rug-up, view the stars and enjoy the sounds of the night.
Take a break from all the bad news. De-stress in the western North Carolina mountains. Click here to book your stay or call us on (828) 452 3089.